Economy not interfering with cupid's arrow: Weddings seem to be recession-proof for OU students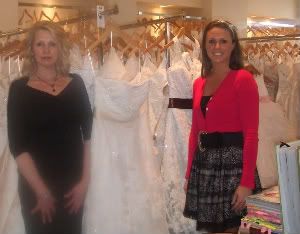 Jenny Dillon, owner of The Bridal Boutique in Norman, and Bailey Jacobson, bridal sales consultant, in front of featured bridal gowns. The economic recession isn't hurting the emerging boutique's business.
Despite the fact the hard-hit economy means cash register bells aren't ringing, University of Oklahoma students still are hearing wedding bells.

And while the stock market's deep dive means a nightmare to their parents, a lot of older students and recent graduates are still taking the plunge for the wedding of their dreams.

"I don't necessarily have a dream wedding, but it's important to my whole family that I get what I want," said Meredith Willinger, bride-to-be and OU junior."I'm the only daughter."

According to the American College Personnel Association, the number of married students at universities is increasing.

Since these students aren't immune to the economic slump, many young couples are planning their weddings more wisely.

"Luckily my parents have been saving money for my wedding for a while so monetarily we are not too affected," said Willinger. "But the economy has made me think more about how I'm spending the money."

For Willinger's June 2010 wedding, the cake will feed about half of her 250 guests.

"The other half will eat sheet cake in the same flavor-icing combo," said Willinger. "The sheet cake will be pre-sliced in the kitchen so no one will know."

From do-it-yourself projects to sensible thinking, many couples have a similar approach to planning their recession-weddings.

One strategy is tying the knot when rates are lower, like November through April, the off-season for weddings. Usually Saturday night is the most expensive.


At Cobblestone Creek country club in Norman, the rental charge ranges from $800 to $1000 for a ceremony after 7pm.

In planning his daughter's March wedding, Edward Tilley saved money by hiring someone he knew as the photographer.

"You have to be careful and you can't get carried away, Tilley said. "You still have a nice wedding but you don't have to break the bank."

According to The Wedding Report, a market research company, more couples are projected to marry for a lower budget this year.

In 2008, 2.19 million couples got married at an average cost of $21,814. It is predicted that in 2009, 2.22 million couples will marry for about $20,398.

At The Bridal Boutique in Norman, the largest bridal store in Norman, business is booming despite the economic decline.

The boutique has days full of scheduled appointments and frequent walk-ins, and about half of its customers are OU students.

"We actually just keep getting busier and busier," said Bailey Jacobson, bridal sales consultant for The Bridal Boutique.

Jenny Dillon, owner of The Bridal Boutique, said one reason she entered $60 billion industry is because people are always going to get married.

Willinger's attitude reflects this idea.

"I will for sure get married regardless of any outside circumstances," Willinger said. "Even if it has to be in a courthouse channeling [Sarah Jessica Parker] in Sex and the City, I'm going to marry my fiance. We have been dating for six-and-a-half years and are so ready and excited to be married and start our lives together."

The Bridal Boutique, which offers a credit program and discount services, is one of many businesses with services to alleviate costly wedding expenses.

Couples can enter in the "Bahamas Bridal Bailout" contest to win a free Bahamas wedding. JC Penny partners with OurWeddingDay.com to provide online benefits for wedding needs.

In addition, many scholarships are available exclusively for married college students.

"There are ways to have a beautiful and chic wedding without spending a lot of money," Jacobson said. "It might take more time on the bride's part, like making their own centerpieces or favors."

Jacobson said she advises simplicity to help cut back on the entire price tag.

"This means brides can opt for less extravagant weddings and still be throwing a stylish affair," Jacobson said.